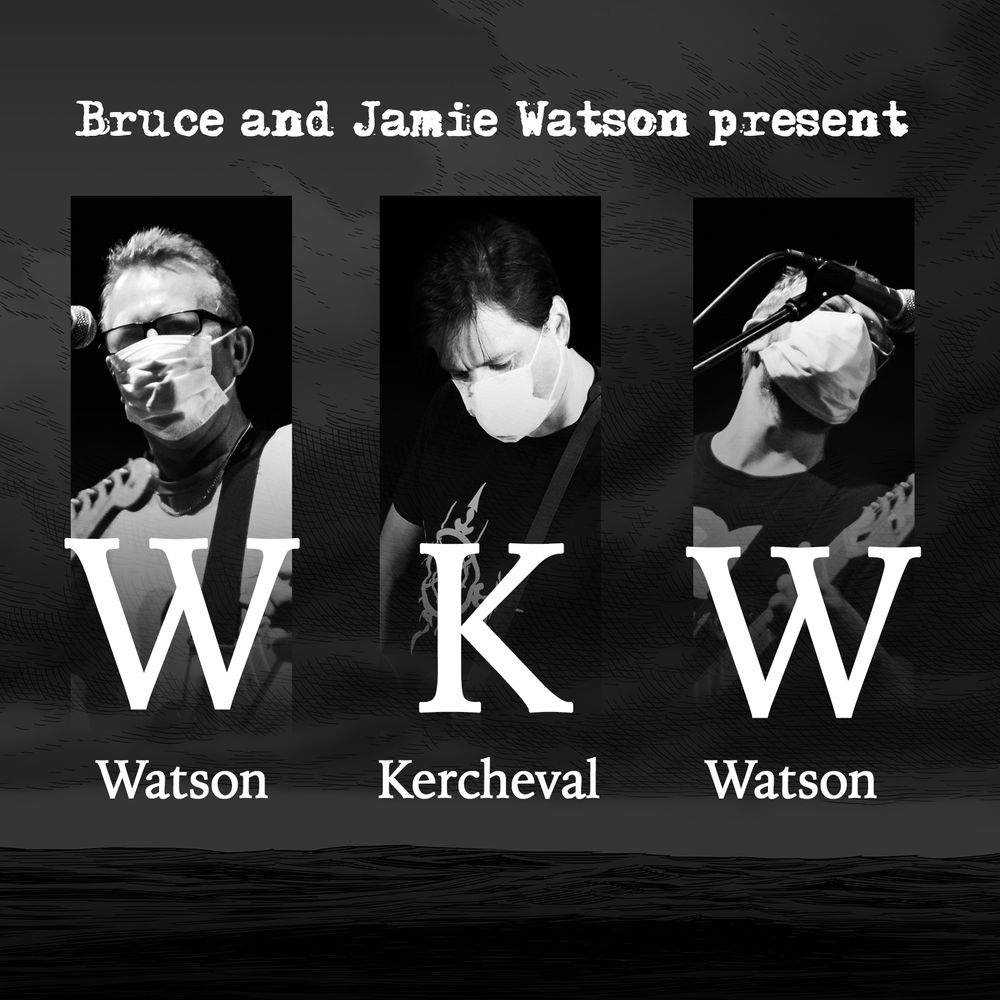 WKW: The Latest Chapter in the Big Country Story
New album sees guitar duo unite with U.S. fan as bandmate
The legendary band Big Country has remained an inspiring force for legions of fans across the world for nearly four decades. Co-founder Bruce Watson is still firing off those trademark guitar salvos, but since 2011, he's alongside his guitarist son Jamie. The band has been touring almost non-stop since then, but new music has been in short supply since 2013's 'The Journey'.
Bruce and Jamie are about to end that drought with their new project called 'WKW', a collaborative effort with American musician Thomas Kercheval. Together, they now release 'Men of Steel', a nine-track album overflowing with huge guitars, driving bass, mountainous drums and anthemic choruses through a song selection that includes a couple of intriguing guests and fascinating back-stories.
Bruce Watson was picked by Stuart Adamson to co-found Big Country in 1981, and his songwriting and guitar playing have always been indispensable to the treasured BC sound, a vital component to their international success. He and Jamie are also current members of another legendary Scottish band: Skids.
Thomas Kercheval is an award-winning documentary editor (four regional Emmys) and an independent musician with five solo releases under his belt. A fanatical Big Country fan since his early teens, Kercheval is also the founder and co-host of 'The Great Divide', a Big Country podcast that's garnered more than 500,000 downloads since it began in 2013. From a guitarist and songwriter standpoint, "Big Country has always been my biggest influence," Kercheval says, "and the music I write always springs from that source naturally."
In fact, it was Kercheval's last release — an EP titled 'Rail' — that got the WKW ball rolling. Looking for some feedback, Kercheval shared one of the songs with Bruce, whose encouraging words helped Kercheval work up the nerve to offer his services as a writing partner should the interest ever arise. "I didn't think he'd ever take me up on it," Kercheval says, "but a few days later, two unreleased demos showed up in my email box. One was a song called 'Seven Swords.' Bruce said he'd never finished it and asked me to see what I could do with it. After the surreal nature of the opportunity to work with one of his musical heroes subsided (a bit), I took a wild stab, recorded a version of the song and sent it to Bruce with bated breath. Long story short, he and Jamie both loved it," Kercheval says, "and away we went."
With Jamie also now onboard, the trio began recording in a way that only today's technology could make possible. Kercheval would record his parts and send them to the Watsons, who would then record their parts and send them back to Kercheval, who'd then mix the ingredients into a finished track, send off to the Watsons for review and make revisions until everyone was happy.
With Bruce and Jamie's relentless touring schedule, the process was slow, but WKW eventually released a digital-only EP in early 2019, aptly titled 'Hands Across the Ocean'. The reaction to the EP was very encouraging, so ... WKW decided to write and record more, eventually assembling the tracks that make up the "Men of Steel" album. Fans, however, requested a CD version of the trio's work this time, so, in November 2019, WKW launched a crowdfunding campaign to help make that happen. The response was phenomenal! The campaign was set to run a month, but the the goal was reached in less than two weeks! And so, in early January 2020, "Men of Steel" will also be released on CD. 
Tracks:
Edison's Last Stand 
Killiecrankie
Seven Swords
Troubled Man
Nationwide
The River Stays the Same
Rose Red Sunset
Smoulder
Lay the Coin
Big Country fans may well recognize a couple familiar song titles in the track listing, as well as tracks from Bruce and Jamie's 2010 album, 'Another Anthem For The Damned'.
"I think 'Troubled Man' is one of the best songs Stuart has ever written," Bruce says. "We didn't want to stray too far from the original, but we just wanted to make it more contemporary sounding." The track features guest keyboardist Colin Berwick, who played for Big Country on their 'No Place Like Home' tour in 1991. With the Watsons recording their parts in Scotland, Kercheval recording his in America and now Berwick recording his keyboards in Australia, the track marks a true "around-the-world" collaboration.
One of the biggest surprises is another song penned by Stuart Adamson that has some serious historical currency. It's a powder-keg of a track called 'Nationwide', WKW's take on a demo Adamson wrote and recorded with Skids in 1977, a demo that, at least as of now, few people have ever heard. The WKW track features guest bassist 'Alex Plode', better known as Bill Simpson, original and current Skids bassist. Simpson recorded bass on the song's original demo back in 1977, and he decided to revive the 'Alex' moniker to credit his performance here.
The three EP tracks return, too, but they've been remixed and remastered, and, in some cases, have had new parts added. "To our ears, these are the definitive versions of those songs," the trio say.
'Men of Steel' is an album of spitfire ferocity, and it also stands as a labour of love from three flesh-and-blood musicians who've worked their respective arses off to make some powerful, passionate music in its purest form.
WKW is Bruce Watson (guitars, vocals), Jamie Watson (guitars, vocals) and Thomas Kercheval (guitars, vocals, bass, drum programming).
Press inquiries:
Dave Hill: tenacitymusicpr@gmail.com
+44 (0)7951 679666